Comprising paintings, objects, photographs, wall interventions, projections and workshops, the exhibition brings together five of the most representative Stencil Art names from São Paulo.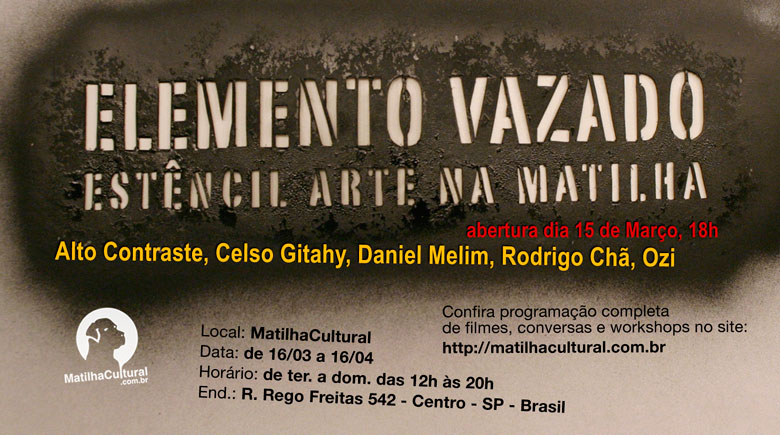 With current and contemporary productions of stencil art from São Paulo, the show features the presence of Ozi, and Celso Gitahy, active since the 80s, and also Daniel Melim, Rodrigo "Cha" and the art group Alto*Contraste representing the 2k millennium generation with over 15 years of street.
The exhibition also celebrated the Day of Graffiti in Sao Paulo (March 27), the date chosen as a tribute to the pioneering graffiti artist in the country and practitioner of the stencil, Alex Vallauri (1949 -1987). The artists invited to the exhibition, in particular Ozi and Celso Gitahy, began operations in urban art in the 80s encouraged by Vallauri. Since then, follow occupying the city walls with their work and actively participating in street art in Sao Paulo.
Three names represent the new generation. Daniel Melim, since 2000, develops the social project called Limpão in São Bernardo do Campo – SP, and urban interventions using the stencil by the ABC region and was one of six artists who participated of the Inside Out / Outside Inside show in MASP (Art Museum of São Paulo).
The artist group Alto*Contrast passes through a similar situation. For some years now they propose stencil occupations in some chops of the São Paulo city, always with disparate references, they work show "frankenstein" created species characters, weaving fragments of different universes.
And yet, Rodrigo Chã, who began working the metropolis streets in 2003, and uses beyond the stencil, stickers and posters applications, always represented by a dove mark.
"The stencil is perhaps one of the techniques of graffiti with the historical lineage more politicized " Demetrio Portugal, Projects Director of the Matilha Cultutal center says. "Its messages usually refer the aesthetics of counter-advertising appropriating and 'mixing' icons, words, symbols, drawings and rapid assimilation that explode in the city walls repeatedly, since this technique has the same principles of industrial printing." complete.
Because of its fast implementation, this style has become the favorite of artists who dare to intervene in areas where police action is more efficient or punitive as is the case of Argentina, England, Japan, France and other countries. One of the greatest exponents of this type of expression is Banksy, known for his controversial interventions, mainly in England, and for his film, "Exit Through The Gift Shop" Oscar nominee for Best Documentary in 2011 and with exhibition at the Matilha Cultural cinema theatre during this stencil art show.
EXIT THROUGH THE GIFT SHOP
Film exhibited along with the show program
Beside the works, wall interventions and historical references that tells about this  technique in Brazil, the audience can freely participate from the program with guests and artists for conversations and woskshops to understand better about this movement.
MAKING OF THE SHOW