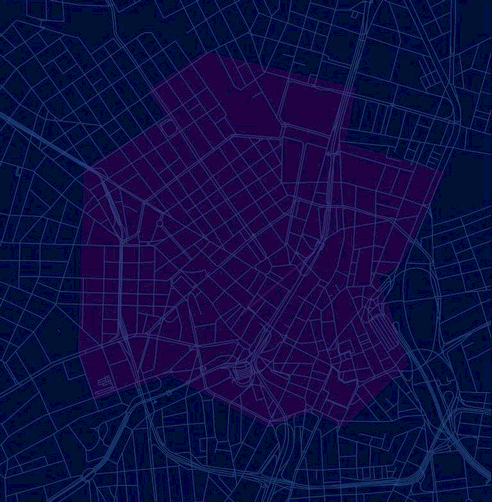 Picturing  the collective face.

This experience blended art and technology intervention concepts, with GPS.Art, cartography and education. The PublicMap project happened during a Virada Cultural in São Paulo (a huge Nuit Blanch mixed with several music stages distributed throughout SP historical center).
For this intervention the general public were invited to participate by using their smartphones, while our APP worked as a pencil tool to generate dots and lines by referring its geolocation displacement within the city. The result was a sequence of participative drawings ruled by the anonymous multitude displacements.
Conceptually, this intervention took place in the border between the city geography, cellphone data, internet and geolocation; which has revealed a puzzling relationship between power and privacy within the operational paradigms of todays networks.
Therefore we decided to built an APP that are free to every one, that preserve ones privacy by not grabbing none information or data from the participant that is not strictly necessary to make the platform work. By this way the intervention has questioned and challenged the technological infrastructure that could naturally attend to a logic that is broader and free (really open and collective) but seams to priorize the control and the private interests.
We also had 50 people gathering where did the general public came from (their origin), this information were used to generate another map, a world wide one. Both maps were shown in a one pavement house sized LED wall structure placed in the middle of Vale do Anhangabaú, the largest downtown square at São Paulo historic center.
It was in pursuit of the collective figure, the image of the crowd in movement – with the creative and libertarian essence that Internet has fostered since its inception – that we have decided to make this project happen.
PROJEC BY LAB*EXPERIMENTAL
Creative Concept & Coordenation:
Demétrio Portugal / Jonaya de Castro / Felipe Brait / Rafael Zenorini
Invited Artists: Vitor George / EduZal
Art Educators: Jana Tineo / Maíra Vaz Valente
/ Manuela dAlbertas / Luciana Nassan / Lucilio Correia
---
PROJECT BACK STAGE AND PREPARATION
---
THE LED WALL STRUCTURE